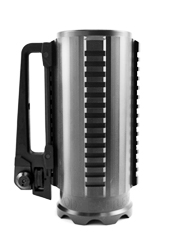 Your dream of joining an elite special forces unit died when you heard about the hours of treading water in the freezing ocean.
Still, you wish you could get your hands on some of that state-of-the-art military hardware.
The beer mugs, for instance.
Which is why we'd like to tell you about the
OPMOD Battle Mug
, available now as the military-spec coffee/beer vessel you've always coveted. Maybe.
Now, we're not about to say this thing isn't a little extravagant. But it's also a little bit badass. And it has its own engraved serial number. It starts out its life as a 13.5-pound block of solid aluminum and finishes as a 24-ounce chalice worthy of any victory, military or otherwise.
Should it get very cold (or hot, depending on what you fill it with), rest easy, because you won't have to hold onto it directly. Nope, for that they've thrown in an actual handle from an AR-15 assault rifle.
And if you really want to get silly with it, it's got rails that let you add all manner of tactical accessories—laser sights, scopes, a bipod or a shoulder sling.
Bartenders love it when you put a laser sight on their chest.