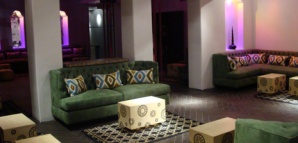 In Hollywood, VIP playpens quickly devolve from debaucherous tabloid fodder to...fodder for tourists who read about places in tabloids.
 
But sometimes, against the odds, a place reinvents itself to start again. Rising from the ashes of Spider Club, the one-time mother of all Hollywood VIP dens, Bardot is now soft-open.

You know how to get there—just snake past the concert-goers swarming the Avalon and climb the discreet stairs to the multi-roomed hideaway above. In addition to you, the owners have brought in the men behind Green Door's infamous live jazz and rock nights...so you may not know what'll be onstage when you get there (could be jazz or rock, could be burlesque or an Eastern European trio), but you're probably going to like it. But first you'll want to grab a couch in the lounge to fuel up with some Beef Brisket with Carrots, White Chocolate and Shiitake Mushrooms from the generously tattooed chef at Violet. (You always prefer your white chocolate and carrots with a side of tats.)

And as the night gets going, head to the other side—because you never say no to drinks inside a cozy, tastefully striped funhouse tent. (What can you say, sometimes your life is a circus.) But you'll probably want to tend to said drink in the (sort of) open-air courtyard connecting the tent and the lounge.
 
It's got sights you won't see anywhere else—except maybe the tabloids.