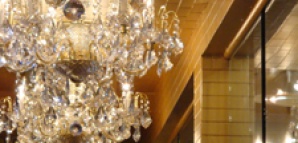 You're generally known as the one who goes all-out.
 
So you have to hand it to the proprietors behind 24K Lounge, opening tonight, for embracing their gold theme so wholeheartedly.
 
In the former home of Seven (and iCandy, and Belly), you'll now find gold bricks. And gold-flecked paint. And shots of a model wearing gold paint. Bringing it all together is the cocktail menu, featuring a recession-proof—they hope—Gold Martini, which goes for $100 thanks in part to the leaves of gold floating inside. (They even tried to get you some gold-plated urinals, but some dreams weren't meant to come true.)
 
But what hasn't changed is the basic layout that's survived all three prior incarnations. You can still relax on the walled-in patio past the gate, secure a table in the open but intimate split-level room inside (now with glass panels dividing the two areas), or chat up passersby from the smoking patio out front...it still has that instantly recognizable ovular cutout facing Santa Monica Boulevard.
 
Where you can show off your precious mettle.