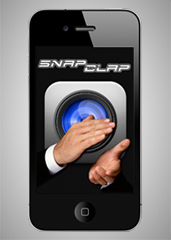 The Clapper.
An idea before its time. The clapping. The Oscar-worthy ads. The, uh, clapping.
Clearly, it was only a matter of time before applause-based technology would make its triumphant return...
Say hello to
Snap Clap
, a camera app for your iPhone that you can control by clapping your hands, available now.
Please: calm down. As we said earlier, this is basically the Clapper for your iPhone (or iPad) camera. Meaning that, finally, you can take pictures without hiring a pricey smartphone-trained photographer.
When you'll use it: well, there's a special day coming up. You've been planning for months. Got a date. Made reservations. Canceled them. Got better reservations. Bought flowers. Yep, it's the Mavericks game this Saturday night.
You'll be picking up your date when she insists you take a photo together. (She loves your bespoke thundersticks.) But alas, a problem: no cameraman. That's when you'll fire up this app. After gently setting your phone on her kitchen counter, you'll assume a pose. (Blue Steel should do the trick.) Then clap once, wait five seconds, and... it takes a picture.
You had a feeling that would happen.