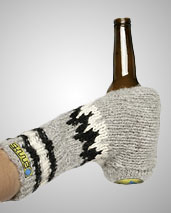 Another brutally cold week.
It's not even New England cold. It's borderline Norway cold.
So it seems only right to turn to the Scandinavians to talk about ways to keep your hands warm and your beer cold during your trip to Gillette this weekend...
Behold: the
Scüüzi
, an ingenious cross between a beer koozie and a set of sheep's wool mittens, available online now.
These are the kind of hand warmers a proud Scandinavian like Ingmar Bergman would have used while shooting an outdoor scene on
The Seventh Seal
(principal photography requires both comfy fingers and optimal beer temps).
So fast-forward to this Saturday: you're at Gillette for the big playoff game against Tebow and the Broncos. You've just parked the Winnebago as a cold front sweeps in. The wind howls. That's when you'll pull these out. Thanks to the Norwegian sheep's wool, your phalanges will be toasty while your suds won't (if it ends up being the other way around, you're doing it wrong).
And you'll be glad to know that you can also order these in 12-packs, should you be traveling with your typically large crew.
Or if you just want a fresh koozie for each beverage consumed.