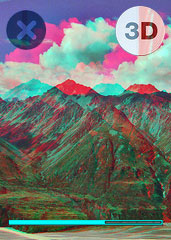 3D.
In the early 1950s, it was merely a novel way to spice up a Vincent Price screamer. These days, everyone seems to be getting in on the action (see: Scorsese, Martin).
It's time you did, too. As it relates to snapping pictures with your iPad.
Presenting
Snapily3D
, a new app that will help you take pictures like some kind of James Cameron–inspired wizard, available now for iPhones and iPads.
To get started, download the app. Next, choose from several shooting options (yes, one is HD) and whether or not you want to use the actual screen to view the image in 3D, or if you have your own set of 3D specs (and who doesn't...).
Once the camera is set up, you'll aim at your target, tap the shutter button and make extreme pans from left to right, not unlike the time you were a cinematographer on the Grand Canyon IMAX film. The app captures the photo and processes it, allowing you to shoot 3D images in color or grayscale and upload right to Facebook (your friend's friend's friend will be blown away).
And since some moments in life are suitable for framing, you can even order 3D prints—like, say, of those godlike views from the summit of your next hiking trek.
K2 is best viewed in all three dimensions.