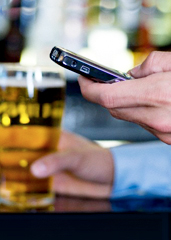 Well, now this is a real pickle.
It seems the entire third floor is heading out for drinks. It's someone's birthday... or it's an intern's going-away party... or, you know, something important.
And you'd love to go. Really. It's just that, well—how do we put this delicately?—you have better things to do on Friday night. (Mainly involving getting away from people you work with.)
So how's this: the first round's on you. Just whip out your phone and pull up
Bartab
, the app that lets you text a drink to anyone you know, available now.
And yes, we mean a real drink. The kind you gulp in one shot. The kind that leaves a sudsy mustache. The kind that sends girls your way to say, "Why, thank you, stranger." That kind of drink.
Right now, about 70 bars in Chicago are in the app—from Benchmark to DMK Burger. Each one lists one beer, one specialty cocktail and one shot. Use Facebook, your contact list or a text number, pick the appropriate poison and send. Your buddy gets a message they show to a server to redeem.
Best part: drinks only cost you a buck apiece—with one small caveat: the recipient is required to pay a dollar as well, due to damn city liquor laws.
You owed Rahm a call anyway.