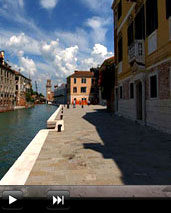 We noticed you've been jogging a lot these past few days.
Nice. Very resolution-y of you.
But there's a slight problem...
It's cold out. And truth be told, you'd rather eat a paper clip sandwich than run indoors all winter.
Which is exactly why you're going to run in the Swiss Alps instead.
Ish.
Because you'll be doing so with the help of
Virtual Active
, a disturbingly intelligent iPhone and iPad app that responds to your body movements on a treadmill to simulate you running through scenic and faraway lands, available now.
It's basically like Wii for gym equipment. Whip out your iPad, place it on your treadmill or stationary bike of choice, and pick a landscape to run or pedal through.
Let's say, for instance, you go with Northern Italy. The screen starts off on a trailhead with no movement. But once you start walking, the landscape starts moving slowly along with you. Progress to a run, faster still. Thanks to science, it basically does exactly what you do.
Of course, the same principle applies should you decide to sprint through the Pacific Northwest, the streets of Los Angeles or whichever other virtual environment makes sense to you at the time.
Until spring, then you can just delete it.