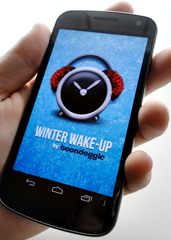 Not to alarm you, but tonight while you're sleeping, something terrifying may happen.
It may snow.
Okay, so not really
that
terrifying. But terrifying enough that there's this:
Winter Wake-Up
, a new iPhone app that is the next best thing to a personal wake-up call from Ginger Zee, available now.
It's designed to get you to your early morning appointments on time in spite of any unexpected weather events. If you can imagine Tom Skilling mated with Siri from the iPhone, you'll get the picture of what this thing does. (By the way, that mental image part is strictly optional.)
You set it like you would any ordinary alarm app—along with making sure your geolocation is operational. Then just tell it how much earlier you need to get up if there's a slight frost on the streets and how much earlier if there's a full-blown snowstorm.
Then, while you're blissfully dreaming away, the app remains on high alert, monitoring Chicago weather forecasts to make sure a sudden snowpocalypse doesn't crop up while you're asleep. If it does, you'll be alerted via an early alarm.
Of course, there's the option to not wake you up at all if the snow looks too bad to get to work.
And your team of Siberian huskies is in the shop.