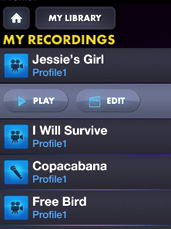 So, Christmas. We may have mentioned it a time or two.
But today, we're talking about something totally different. Wait... correction: we're talking about Christmas.
And how to kill all that quality family time this holiday—one song at a time...
Meet
Soulo
, an app that allows you to sing, record and share your greatest karaoke hits with the world (and with potential record labels), available now for the iPad.
Think of this as a karaoke-powered recording studio in tablet form—ideal for impromptu duets with
American Idol
alums (looking at you, Clarkson).
Let's say you're hosting a few friends in the coming week. The eggnog is flowing. The Run-DMC is blaring. ("Christmas in Hollis" always kills.) One thing leads to another, and boom: dance party. Or, you know, a karaoke sing-off.
That's when you'll fire up this thing. After plugging the iPad into your speakers (and possibly hooking up the wireless mic from Soulo, not included here), you'll browse through the music store on this app and select your opening song: "We Built This City."
As the music begins, the app will show the lyrics and the iPad will start videotaping your every move. (Your stage presence: Jagger-like.) You'll then want to upload your video to Facebook to share it with the world.
We hear this is how Bieber was discovered.