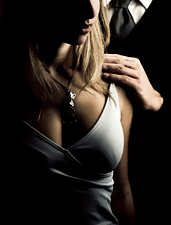 Midtown is lovely this time of year.
The trees, the tourists, the holiday shopping, the window displays, the heavy petting, the naked body-painting, the public spankings...
Right, so there's something you should know about: a little party called
Skin
.
Don't be scared. This involves toys.
This story begins inside FAO Schwarz. Home to handmade toys, adorable stuffed animals and oversized foot pianos. Note: we don't endorse anything that comes after this point. At least not officially.
Of course, there's only so long one can remain at FAO before feeling the need for a change of scenery. And should you remain there, say, three hours after closing (that would be 1am), there in the dark shadows of the wooden nutcracker is where you'll find it. Well, not quite. You'll find it across the street, next to Pop Burger.
"It," in this case, is a small, purple, velvet rope.
Do not approach the rope, except if you must.
And if you must, know that up the two dark flights of stairs and in the attic of this establishment is a party. Salacious in nature. Couples. Meeting couples. An
Eyes Wide Shut
affair. With a bar-side body-painting professional, a banquette-ringed "dance" floor and a pole. It doesn't seem to be supporting anything in particular.
Of course, for those with low inhibitions and a high tolerance for pleather, there's a discreet, seductive, red-light annex in the back called the Playroom.
If you know what we mean.