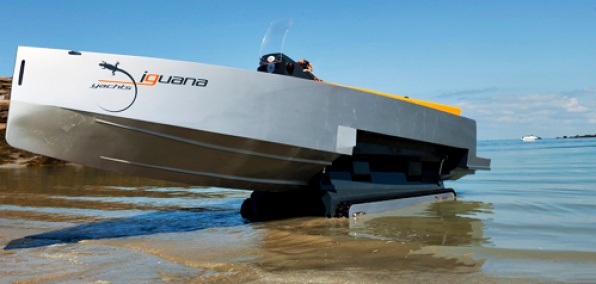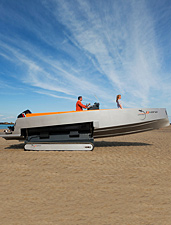 Usually, we talk about things in the here and now. But occasionally, we like to discuss the future. In that vein, we offer this "High Concept." Consider it an amuse-bouche for 2012.
It's an ancient struggle.
The desire to conquer both land and sea—preferably in one vessel.
Sure, duck tour boats and various amphibious cars have come and gone. But none were quite as Bond-worthy as this: the
Iguana 29
, possibly the world's first yacht with land and sea legs, coming to your marina... someday.
If you've ever looked at an expensive speedboat and thought, "Hey, we should totally add caterpillar wheels to that," this invention is for you. Brought to you by a collective of ambitious Frenchmen (naturally), the craft can reach speeds of 35 knots on the water. But on land, well... it's slower. But don't let that dilute the innovation here: the ability to go from ocean to sand with the click of a switch.
There you'll be, navigating the waters of the Indonesian archipelago, when that amateur botanist you've got on board spots an island she's interested in exploring. Not a problem. Simply let down the all-terrain wheels and sail onto the beach where your scientist can hop down with ease.
At this rate, you may never need a car again.