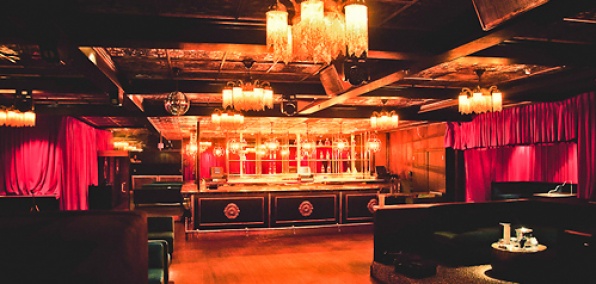 The thing about agents is, they get super crazy and take a big cut of your money—but at least they're all about getting you endless champagne at their secret DJ shows.

Our apologies. We're actually thinking of Agency, Hollywood's covert new upstairs lounge for beats, bottles and leopard print, now open by invite only.

You'll enter from Hollywood Boulevard, ascend a darkened staircase up at the top of the Vanguard space, and things will start to get loud in here: a cozy lounge with red walls, a couple rows of turquoise booths and leopard-print floors. (And you thought leopard print was just for bras and panties. And leopards.)

But the most important piece of furniture is the giant DJ booth lording over the space. Because this is the kind of place that's built to host secret sets by big DJs—bringing a Hollywood swirl of their hipster friends, you... and Stevie Wonder, who already stopped by (presumably just to say "I love you").

For now, it's discreetly open on Tuesdays and, starting this week, Saturdays. Otherwise, keep your ear to the ground. They'll open it up anytime one of their DJ friends is around and decides he feels like spinning until 4am.

5am would be irresponsible.