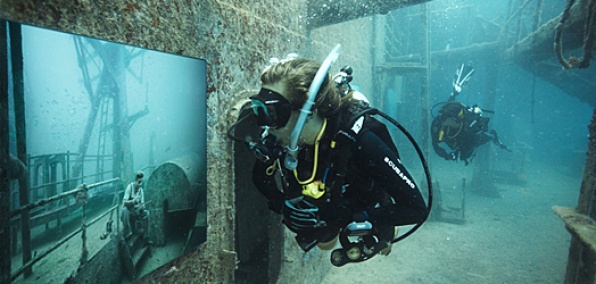 It's that time of year again.

Yep, the time when you voyage off the coast of Key West for a quick scuba dive... into an underwater art gallery.

Which reminds us: you can now do this...

It's called The Vandenberg, and it's a series of photos you'll be viewing in a shipwreck in the Gulf of Mexico. And you can visit now.

This is pretty much the equivalent of... well, nothing. It's a sunken old military ship that's been converted into the second-largest artificial reef in the world, and a photographer by the name of Andreas Frankes thought it might be a good idea to make an art gallery out of it. So he did. The photos: everyday images of people living their lives, photoshopped onto images of... the ship. Naturally.

Now the tricky part: getting there. Of course you're not just going to walk in and buy a ticket from a nice, blue-haired volunteer docent. You'll need a boat. And they've got them for you. Then: you'll need scuba gear, which they've also got for you. From there, you'll scuba on down 100 feet below the surface to the ship, where you'll get a load of Frankes's masterpieces.

They're still working on the gift shop.