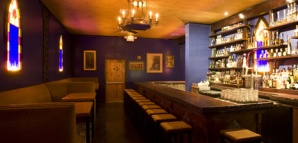 You've always been a spiritual person.

Indeed, you've worshipped at the mighty Mexican altar of tequila on more than one occasion.

So you'll be glad to toss back a few margaritas in a new bar that bears more than a striking resemblance to a very old church. The Mission Cantina opens tonight in Hollywood.

Look for the tall wrought-iron gates right next to Delancey Restaurant (the same owner feeds you pizza there, and those burgers a few blocks away at the Bowery). The patio within is nice, but you don't pray on a church stoop—so you'll want to arrive early (doors open at 5pm) to get inside and claim one of the few booths under the reclaimed chandelier and stained-glass windows.

If the wall of tequila behind the bar makes you both thirsty and hungry, you won't be limited to the fresh apricot, peach and grapefruit-lavender margaritas. There are no enchiladas or burritos on the menu, but you can make do with the Mission Mole Poblano, maybe alongside the Grilled Corn on the Cob with Chipotle-Lime Butter and Churros with Custard-Chocolate Dip.

It's an ambitious endeavor...but you gotta have faith.