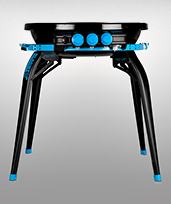 Your Rob Gronkowski–themed watch party for last night's Pats game was a roaring success. Now it's time to think about your next trip to Gillette Stadium. And how to take your tailgating game to Vince Wilfork-ian levels.
This should help: the
Blacktop Grill-Fryer
, the next best thing to stuffing a diner into your car for stadium-adjacent feasts, available now.
If KITT from
Knight Rider
had a cooking station counterpart, this would be as close as it gets (unfortunately, it doesn't come with a walkie-talkie watch). In short, it combines what you look for from a griddle, a grill and a deep fryer into one portable, propane-fueled über-grill (George Foreman, you've been warned).
We can see it now: you're at Foxboro. You've got brats, burgers, dogs and buns ready to rock. In the cooler, fryolator-ready jalapeño poppers and onion rings begging to be lowered to their doom (it's a quick death). Then it hits you: some flapjacks and hash would round out the meal nicely.
That's when you'll employ the fryolator in the center and the grill and griddle portions for the applicable foodstuffs, all while controlling the heat on the independent controllers (which can reach 650 degrees).
It even comes with a cutting board, a thermometer and a three-position cover.
You're a three-position kind of person.