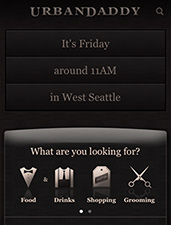 Manifest Destiny.
The great American desire to head west, expand, discover, conquer.
Also, to find the finest bone-in filet mignon in every nook of every city in this great land of ours.
Here to help: the new, constantly expanding incarnation of
The Next Move
, UrbanDaddy's free award-winning mobile application, now updated with 87% more life-changing features and, for the first time ever, 100% more Seattle.
Hopefully, you already know the drill. This is UrbanDaddy... hit with a shrink ray, dropped in your pocket and ready to answer all your burning (location-based) questions. Think Siri, if Siri were capable of finding you the perfect bacon cheeseburger to share with your mistress on a rainy Monday.
And because this is the kind of information that (legally) needs to be disseminated to the masses, we decided some aggressive expansion was in order. First up (as in right this second, check your phone): Seattle. So now when you're out in Ballard with Paul Allen and he wants artisanal oysters (yup, again), you've got options.
Also, about those new features—you'll now be able to keyword search our locally curated database (find: dock-fresh sushi, blindingly strong Old Fashioneds), earmark your favorite haunts and, in select cities, access The Next Move's brand-new, real-time grooming and shopping concierge service.
Because partial nudity is still frowned upon in most restaurants.