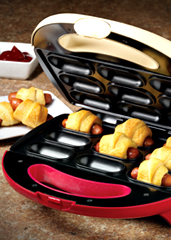 Every once in a while, a gadget comes along that's so revolutionary, so necessary, we can't help but sing its praises.
This isn't one of those gadgets. But it's pretty close.
Hint: it involves mass-producing the best party food ever invented...
Behold the
Pigs in a Blanket Maker
, a game-changer for your annual holiday blowout (i.e., next Wednesday), available online now.
So there you are. Hosting yet another raucous Thanksgiving Eve turkey-tini mixology competition. You've covered all the bases: vodka luge chilling in the center, ice sculpture of Kenny Powers's head next to it, the cast of
Pan Am
getting comfortable in the patio hot tub. Only one thing: everyone's hungry.
You disappear into your kitchen/culinary laboratory. Open up this secret weapon, pop in some mini franks wrapped in pastry dough (with a perfect pig-to-dough ratio, of course) and close the lid. Five to eight minutes later (depending on how crisp you want them), you'll unearth nine specimens of bite-size loveliness and emerge to cries of "Keep 'em coming."
Of course, with a tool like this, your creativity knows no bounds. Now you can churn out a bunch of instant finger foods: jalapeño poppers, pretzel bites, corn dogs. And, naturally, the apex of snack food innovation: the mini pretzel dog.
Just don't drop it in the hot tub.