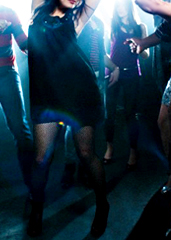 You might've heard whispers about a new exclusive/hush-hush/etc. nightclub from Paul Sevigny—aka the Paul of Paul & Andre. This one's called
Smoke and Mirrors
, and we were there on opening night. (And, um, last night, too.) Here are the five facts you need to know:
Fact #1: It's happening. Really.
Despite what hotel staff may tell you. Friday was the official kickoff, and things got loud. And yeah, Monday was loud, too.
Fact #2: It's at the Standard on Sunset.
The line forms inside, just to the left of the lobby. And this place is smaller than Paul & Andre, so the door's even tougher.
Fact #3: Now's a good time to text your buddy Paul.
They've got a few tufted booths that you can book if you're in the know.
Fact #4: Yes, you enter through a kitchen.
Once past the velvet rope, you'll pass by some counters and stoves before entering the hotel's Purple Lounge, where this thing now goes down.
Fact #5: It's really dark inside.
So you'll barely see black walls, a faux Hollywood sign, half disco balls stuck to the ceiling, a tightly packed floor filled with exotic model types who aren't too cool to dance to "Please Mr. Postman"... and a pervasive commitment to full-on debauchery. If you squint, you might even be able to see your
Chi-Town Sage
.
If not, just know there's gin in it.