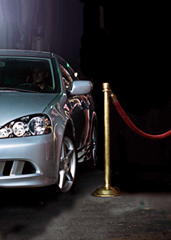 You've got a tight schedule coming up.
Backstage passes to the
Watch the Throne
tour. Bears-Lions next weekend. The Bulls' home opener.
Wow, sorry. We jumped the gun on that one.
The point here is that you don't have time to waste on something as mundane as parking.
Which brings us to
SpotHero
, a new online wizard that helps you reserve parking spaces in advance, online now.
This thing was developed by a couple of local guys who apparently ran up something like $5K in parking tickets. (You just never can be sure which space-hawkers to trust outside Wrigley Field.)
They hooked up a deal with the state—we're assuming amnesty was involved—and now they'll help you reserve one of a couple hundred spots scattered across a few neighborhoods. Right now it's just the Loop, Wrigleyville, River North and Chinatown—but as they crowdsource private garages and residents, it's growing daily.
So imagine you have invitations to four different turkey tastings (you don't take chances with Thanksgiving) across the northeast side. You'll pick based on neighborhood and browse available spots by time and price. After a couple clicks, all that's left to do is parallel-park the hell out of that space.
We should add: you can list your own garage or driveway for any interested parties, and make a tidy little profit.
We hear it's how Scalabrine's getting by during the lockout.