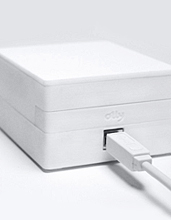 Well, here's something.
The world doesn't even know how much it needs this.
Get ready...
Smell-O-Vision is real.
Sort of.
Introducing
Olly
, a fully customizable air freshener that works when someone pokes you on Facebook, available... soonish.
If Willy Wonka had lived during the Internet era, he surely would have come up with this little box. You can put a slice of orange in it, a cinnamon stick or even a drop of your favorite barrel-aged beverage, and it will puff out olfactory delight whenever someone likes your Facebook status, retweets your latest 140-character masterpiece or does anything else social network-y involving you.
Now for the bad news: you can't buy it just yet. But they're working on that, and in the meantime, you can make it yourself (seriously, they'll give you instructions). Also, you can get (or fabricate) multiple boxes so that you have different smells for different notifications (Instagrams feel like more of an earthy note, while Facebook likes have a strong whiff of cotton candy about them).
So next time you post a devilishly charming #witticism @onlysarahshahi, she of course won't be able to help herself from responding. And all of a sudden...
The snozzberries smell like snozzberries.