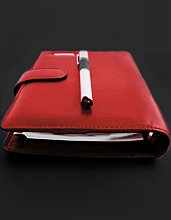 Your costume: whimsically controversial.
Your trick-or-treat bag: reinforced by titanium.
Your weekend agenda: actually a month's worth of masquerade balls, haunted hayrides and semipro apple-bobbing contests.
So yeah—it's going to be a busy Halloween.
But hey, here's a supercomputer scheduling assistant to help you stay organized...
Introducing
UPlanMe
, a self-aware smart calendar that'll constantly evolve to meet your extracurricular scheduling needs, available now in private beta.
This is sort of like Pandora for your social life. You'll go to the site and answer a few basic questions about yourself (favorite drinks, foods, hobbies), then UPlanMe will begin scouring Facebook/Russian satellite transmissions for the must-attend events you may have overlooked. New burgers debuting at Minetta Tavern. Impromptu McCartney concerts in Central Park. Front-row Knicks tickets going on sale (more of a 2013 reminder).
When left alone, UPlanMe will do a reasonably good job of plotting out your weekends and/or juggling dates with your mistress from now till 2099. But to keep things running smoothly (and to avoid being notified every time
The Rock
is on basic cable) you'll want to "unlock" (think thumbs-up) the events you enjoy and "lock" (thumbs-down) the ones you never want to show up on your calendar again.
No, this won't actually eliminate Mondays.