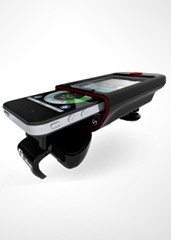 Every so often, a transformative motivator appears in the world of sport.
Phil Jackson. Bobby Knight. Emilio Estevez in
Mighty Ducks
.
They all have one thing in common: they can't fit on the handlebars of your bike...
Which brings us to
iBike Dash + Power
, a sensor and app that turns your iPhone into a tiny onboard cycling trainer, available online now.
Imagine your phone displaying all your key biking stats (speed, routes, cadence) and keeping you on your training program. Uphill climbs, rep exercises—all of it—in a waterproof case on your handlebars.
After you install a few things (a sensor here, a case mount there), you'll download the app that goes with it all and enter in information about you and your bike. Then... you'll pedal. As you reach a fork in the road (or mountain), you'll check your map to see which way you want to head. You'll check your speed (don't stop pushing until it reads "of sound") and your heart rate. The app will time and direct your training (thresholds, tempos, Tours de France). When you're finished, you'll email all your stats to yourself and check out graphs of your epic ride.
Graphs are the hallmark of victory.