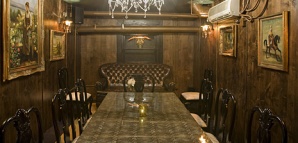 They say you never get a second chance to make a first impression—not that you'd need it, of course.

Guess the saying doesn't apply to basement speakeasies in Hollywood. Hush Lounge is reborn tonight from the ashes of the short-lived spot formerly known as 86.

If you dropped by before, you'll notice the layout's the same—a series of interconnected subterranean rooms anchored by a stage, all designed to accommodate your night focusing on the three Ds (dining, drinking, debauchery). But after a major overhaul bringing in old paintings, new furniture, chandeliers and mirrors, the whole place now feels much more...speakeasy-ish. (In a good way.)

For now, you can fuel up early on a filet and Lobster Mac and Cheese Thursday through Saturday. Then your dining table will become a lounge table around 10:30—unless, that is, you've arranged for a private bacchanalian feast for ten back in the library. Depending on the night (dinner aside, drinking can be done any night), you might see acoustic music or burlesque on the main stage—but jazz will always blow on Sundays.

So the name isn't being taken all that literally.