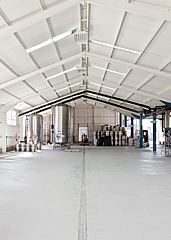 We don't want to get you too excited.
But there's a new brewery in town. And it's big. And it's craft-y. And it's... well, those are the two main things. It's big and it's craft-y.
Say hello to
Golden Road Brewing
, a giant new indie-beer factory in Atwater Village, launching this Sunday with suds and grub, and filling your growlers with beer after that.
Again, not to get you too wound up, but what you're dealing with here is the city's largest manufacturer of craft beers, a three-barn outfit that will be pumping out 20,000 barrels of brew this year alone. (The folks behind it are from Mohawk Bend in Echo Park, Tony's Darts Away in Burbank and Dogfish Head in Delaware, so they know their hops.)
If you want to come by this Sunday to say hi, they'll be premiering their first two beers, Golden Road Hefeweizen and Point the Way IPA ($20 gets you a glass and three pours). Plus, there'll be food trucks and special guests from other breweries (you know what that means: beards).
But if you can't make it this weekend, you'll want to pop in starting Monday to fill up a few growlers. And in the coming months there'll be a restaurant and tasting room.
This is all assuming you like beer.