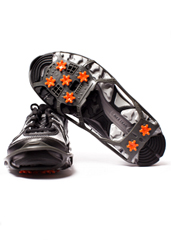 You've got your celluloid heroes. Your Rocky. Your Dirty Harry.
Most of all, your Tin Cup.
And if you know Mr. Cup, you know two things: 1) an impromptu challenge involving a 7-iron could arise at any time. 2) When you take your smirk back into the bar afterward, the first words you want to hear are not "Why are you wearing those silly shoes?"
Introducing
Quick Spikes
, available now to let you slap some golf spikes right over your running shoes, your wingtips or—why not—even your ski boots.
You've seen the crampons that ice climbers strap to the bottoms of their feet to keep from slipping. That's what these are like, but for golf (if you're actually golfing on ice, stick to the crampons).
So the next time you're standing in Lafayette Park, and someone hands you a 3-wood and says, "I bet you can't hit a soft fade right onto the North Portico," you'll be ready. (Note: this is really, really not recommended.) You'll pull these little babies out of your messenger bag, stretch them over the soles of your shoes, and the seven cleats per shoe will keep you from slipping during your swing (your life is mulligan-free). 
Then again, you could also keep them in your trunk for those times when happy hour turns into "flasks and a bucket of balls at the range."
Don't forget to invite Cheech Marin.