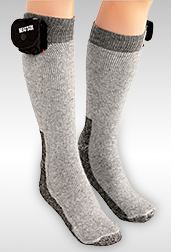 When it comes to technological advancement, your phone is approximately 10 billion times more sophisticated than all the computers it took to send a man to the moon.
Yet, for some reason, sock technology hasn't had a breakthrough since elastic replaced the garter.
That's about to change: a new era in battery-operated hosiery has arrived.
Meet
The
12-Hour Heated Socks
, a herculean advancement in toe-warming technology, available now.
Of course, the timing couldn't be better. This soggy weekend seems to be a spiteful prelude to the months of sloshing your feet have ahead of them. So consider this your toes' first line of defense.
The socks seem like inconspicuous, basic, gray wool socks—which, actually, is a pretty good start when it comes to keeping you warm. But the wool has been given a boost by pairing it with a hollow-core fabric designed to move moisture away from your skin. Then comes a super-thin, adjustable heating element powered by two D batteries and located near your calf, bringing much-needed warmth for up to 12 hours on the low setting.
Now, we're not saying they're going to do much for keeping the line of your tuxedo crisp on formal ski vacations in Aspen. But you'll be thankful you're wearing them on a cold and cloudy Sunday at Soldier Field.
When those solar-powered long johns are rendered useless.