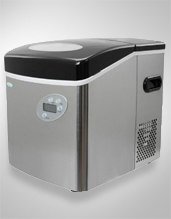 October is on the horizon.
Halloween. The postseason. ... Swimming.
Yeah, it's still damn hot. So to keep you (and your cocktail) cool: the
NewAir AI-210SS Portable Ice Maker
, a portable ice machine that churns out 12 frozen cubes every 10 minutes, available online now.
On the outside: an unassuming-looking cooler. On the inside: a relentless, state-of-the-art ice cube factory, cranking out 35 pounds of frozen water a day.
So let's say this Friday, you're hosting a bourbon-fueled watch party for Game 1 with the usual suspects: Uncle Roy, your book club and Roger Staubach (who's also in your book club). But after a friendly discussion of Hawthorne and Josh Hamilton, a few rounds of Old Fashioneds, boom, it happens: you run out of ice.
First step, grab your lucky muddler. Second, break this guy out. You'll plug this in and pour in about a gallon of water. As you stretch out your muddling hand, an evening's worth of cubes will start piling up in under 10 minutes.
Warning: we hear Roger averages two mint juleps a minute.