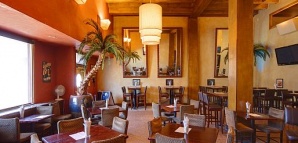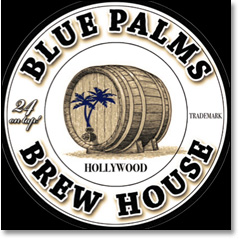 A life well-lived is a life of balance—so for every epic night beyond the velvet rope, you occasionally need...the opposite of all that.
Beer. Burgers. Simple. Casual.
Welcome to
Blue Palms Brewhouse
, a beer-soaked hideaway soft-opening Friday in Hollywood.
You'll find the discreet entrance under the neon-framed signage of the Music Box at Fonda...if you're paying close enough attention. Once inside, you'll settle into a dive-y space (concrete patches on the floor connect some occasional tile from the '20s, unearthed when the carpet was pulled back) that's focused on what's truly important in life. (Still beer.)
Specialty brews are to be found, of course, but Blue Palms is also one of the few bars in the city to pull in a cask draft engine, which will generally dispense a more complex, less carbonated brew than the other specialties on tap. (You've come a long way from those college keg parties.)
And if you need some dinner (or, let's be honest, lunch—which starts in a few weeks) to go with your suds, order a burger, steak or the update on that long-stagnant childhood classic, SpaghettiOs and meatballs—the pasta's homemade here, and the meatballs are Kobe beef.
Just like how you had them growing up. But...the opposite of all that.