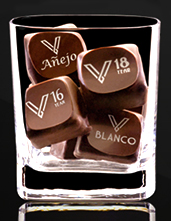 Today, we're going to tell you about confections so potent that, like handguns, you can't even get them delivered to DC. So you'll be glad you got that emergency PO Box in Shirlington. (A friend's house also works well.)
We're talking, of course, about a box of chocolates.
Specifically
Twice the Vice Spirited Chocolates
, a line of valentine-worthy candies that takes entire cocktails and enrobes (yes, we said enrobes) them in Belgian chocolate.
This is the best reason we can think of to leave your flask at home. The crazy confectioner behind these little gems blends all of the cocktail-y ingredients right into the chocolates' ganache filling—and, we might add, he uses significantly more liquor than you'd normally find in a chocolate.
For those brisk fall football days, try the mint julep chocolates with Woodford Reserve (also handy if you find yourself at a racetrack). For your impromptu fajita grilling nights, top things off with the El Tesoro margarita chocolates.
But for something to sustain you through bowling night, you'll want to summon The Dude. In the form of an entire box of White Russian chocolates (nine of them, one for each drink he consumes during the movie), each emblazoned with his visage.
Plus, they really tie the room together.