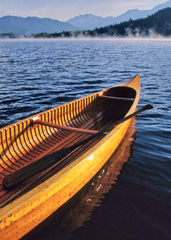 Look, this is going to take a little work on your part.
It's going to take planning. It's going to take the heart of a lion. And it's going to require a heroic conquering of your fear of noncontiguous America.
But we promise, at the end of all that, you'll be on a river-faring bar crawl in Alaska.
Introducing the
Great Fairbanks Pub Paddle
, a self-guided boat tour of riverfront watering holes in the last frontier, happening anytime you're willing.
The place: the Chena river, where you'll rent a boat and maybe an extra sailor or two to take you downstream from Pioneer Park. You'll take in the sights—caribou, vast evergreen forests, crystal-clear waters—but that's not what you're there for. You're there to set sail for Boatel Sleazy Waterfront Bar—actual name, and your first stop—and the hoppy golden treasures inside. The beers: Alaskan, like Alaskan Blabber and Glacier IPA and other beers that sponsor lumberjacking events (we assume).
From there you'll paddle over to Pike's Landing for an alfresco beer or three while overlooking the river. Then, the Pump House, where you'll end things on a high note. The high note: Alaskan king crab and salmon, presumably speared by a Palin. And yes, there's reindeer tenderloin.
There's always reindeer tenderloin.