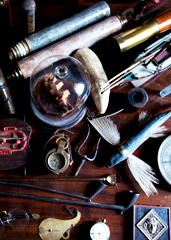 Let's review the pivotal moments in the history of commerce...

1241 BC:
A man sells his bearskin cape in exchange for a handful of particularly shiny rocks.
1602 AD:
The Dutch East India Company is founded, taking the spice trade global.
1975 AD:
Rocks briefly return to the scene, regaining monetary value under the moniker "pet rock."
This week:
Yardsale
, an iPhone app that brings buyers and sellers together based on their proximity to one another, launches in San Francisco.
Basically, this is your replacement for times when you might have once relied on Craigslist—just on your phone and with considerably less weirdness to wade through.
Once you fire it up, the app will ask to use your GPS location and start sourcing the nearest 50 items up for sale or for free. You'll simply scroll down the list and take stock of what you might be interested in, then decide whether traveling 0.3 miles is worth the trouble for a free copy of coach John Wooden's book on leadership (the answer should always be yes).
Plus, now you've got a pain-free way to hawk your segweelbarrow that's just been collecting dust.
It was an impulse buy.