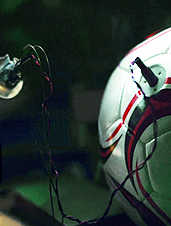 Soccer balls. So predictable.
Always round. Always bouncy. Full of rhombi.
If only they could be a bit more practical and charge your cell phone.
Presenting
Soccket
, a soccer ball that's actually a power generator that's actually an electrical outlet you can bicycle kick, debuting Friday in Nolita.
Between pick-up games at Chelsea Piers and your brief stint as a striker's apprentice for Manchester United, it's safe to assume you know how a soccer ball works. And because of the fact that you're not Amish, it's safe to assume you know how a plug works.
So the next time you're training for the Beach Soccer World Cup (you know, the BSWC) and simultaneously need to use your electric toothbrush, you'll have a solution. Simply kick this ball around, and for every 30 minutes of use, its built-in kinetic energy core will create three hours of power. Then, when you have a free moment (or a corner kick), plug in any electronic device (iPod, laptop, fog machine) for a quick recharging.
And if you want to take one of the balls for a test punt, Openhouse (a gallery space in Nolita) will have them (along with a live African djembe drum band) on display this Friday. For each electricity-charging Soccket you buy/preorder, another will be donated to an impoverished foreign nation.
You 1, Bono 0.