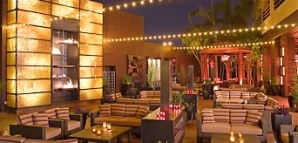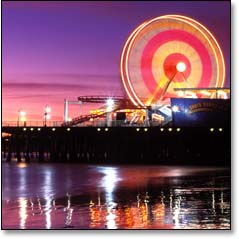 Officially, Los Angeles nightlife shuts down long before sunup—unofficially, well, you've got some stories.
But they probably don't yet include an all-girl drum band, or pirates singing lullabies. At least not until this weekend, after you've fueled up for the surreal dusk-till-dawn beach party called
Glow
—one of the strangest events we've seen in quite some time.
The Santa Monica Pier and Beach will be going all night (first time that's been allowed), having been taken over by a sort of crazed neon party circus. Instead of fanny-packed tourists, you'll find DJs, live music, illuminated "tumbleweeds" floating in the ocean and an orchestra serenading you…while they take a spin on the new solar-powered Ferris wheel.
You'll want to arrive in time for the thundering kickoff performance from Shine, an all-female cadre of drummers and dancers, but if you get tired before dawn, head to the "bonfire" light sculpture, where a thoughtful pirate will send you into naptime with a nice calming sea shanty. (We couldn't, or at least wouldn't, make these things up.)
The inspiration for all this action is the noble grunion, a rare type of shiny sea creature that washes up on Southern California shores during mating season for some late-night breeding on the beach.
It's a ritual you support 100 percent.