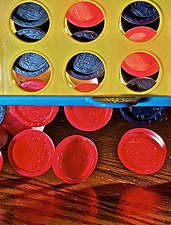 All right, enough. You're back to the grind and it's time to get serious.
Because you've got just 11 days to prepare your muscles, your mind, and your thumb and index finger... for an intense underground Connect Four tournament.
Welcome to
Gamenotte
, a huge Connect Four showdown in a secret Downtown warehouse, selling tickets now for September 17.
First, and this is no laughing matter: you're going to need two teammates who can cut it. You may want to hold some tryouts, or scout the local grade schools for phenoms. (Also: you're going to need to get your tickets online before they're gone.)
Then: come next Saturday, your power trio will make its way Downtown. You'll stretch out. You'll have some beer and tacos. And soon the tournament will begin.
Word of warning: the board is three times the normal size, and you'll have only 10 seconds to make your move. You'll rotate each turn with your teammates, and advance to the next round after a best-of-five series.
Of course, if you manage to pull off a truly legendary feat—that would be a Connect Five—you're in the next round automatically.
Stay focused on what's important: more beer and tacos.