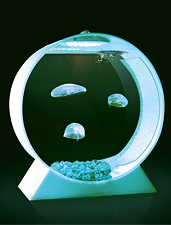 Take a look around.
Pretty magnificent office you've got there.
But for all the hidden minibars, retractable putting greens and autographed Fatheads of yourself (intimidation factor), something's still missing...
A trapdoor that leads to Sublime Doughnuts.
That, and pet jellyfish.
Which brings us to the
Desktop Jellyfish Tank
, an exercise in office frivolity and the self-gift that keeps on giving, available for preorder now.
If you've ever given your office a once-over and thought, "This needs more jellyfish," then you'll want to pay attention.
The biggest takeaway in jellyfish studies so far: if you put them in a regular fish tank, they get sucked into the filtration system and liquefied. Which is gross. Which is why someone came up with this thing.
So once you hop online and stake your claim, your circular, futuristic-looking tank will arrive. Set it up, fill it with salt water and add the key spineless ingredient (you can order jellyfish and food on this site, too). Then, kick back, use the remote to change the LED light color and prepare to harness your chi like never before.
Note: this also applies to your bedroom.