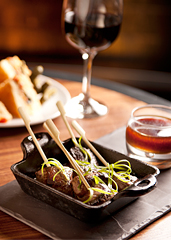 Flashback: Hyde. 2006.
You're walking up to the door, minding your own business, and suddenly you're caught in a firestorm of flashbulbs, Lohans, Hiltons, Spearses, TMZ reporters, screaming valets and screeching tires. Total. Hollywood. Insanity.
Ah. Good times.
And now all that is back. Sort of.
Welcome to
Hyde
, now redone and reopened for your vodka-, dancing- and cookie-related needs on the Sunset Strip.
So yes, it looks different inside. Think swooping white curves, walls pierced with black leather and some jagged wood cubes—they say they want you to feel like you're in a jewelry box. (If we had to guess its owner: Natalie Portman's alter ego in
Black Swan
.)
You and Hyde may have grown up a bit since 2006, but not too much. Because before long, you'll again be dancing with TV actresses—so
take a look at the cocktail menu
before you go so you know what to order, because it's going to be loud. (We recommend
The Love Unit
, with vodka, basil, vanilla and bell pepper.)
And despite what you might've heard on the news recently, they'll be serving food. Really. So if you need to refuel before you roll out your signature move ("the robot worm"), order some sliders, a gruyère grilled cheese or some cookies with spiked milk.
Order an extra round for your robot.