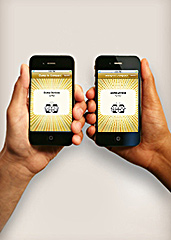 You can learn a lot about people from the music they listen to.
This can be a good thing. This can be a tragic thing.
Take your last date, for example.
It would have been nice to know about her obsession with the Alan Parsons Project
before
she showed up to Bacchanalia wearing a denim unitard.
Enter
Venntunes
, an app that transfers entire playlists—Bump-style—from one iPhone to another before automatically displaying which artists you have in common, available now.
It's a fairly straightforward system: you'll tap your phones together, let science do what science does, and your playlists will be on each other's phones. But the real beauty here is that, post-bump, all of your overlapping songs will be readily viewable (and the others will be available for download on iTunes) for your judgment-passing pleasure. Red flags: exposed. Mutual understanding of Chuck Berry's musical genius: confirmed.
The proper utilization of such a thing is up to you. You could find out what your friends are listening to. Garner hard evidence that your neighbor's penchant for pleated cargo shorts does, in fact, translate to 3 Doors Down fandom.
But we're thinking more along the lines of a chance encounter. Martinis. Oysters. A fleeting glance from across the bar. This bodes well. Before you know it, the phones are out and the information exchange has begun.
Might want to erase that spoken word cover of "I'm Too Sexy."