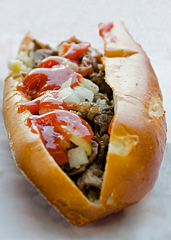 This is a story about our streets and how they're becoming a delicious wonderland.
An urban utopia where you can find whatever it is that you crave—grilled cheese, pork buns, sushi, stuffed arepas—even cigars.

And now, perhaps the final piece in the puzzle is here.
Prepare yourself for
The Cheese Steak Gourmet
, a new food truck brimming with the iconic sandwich and a few exotic spins on the classic, now rolling.
Think of this as your classic downtown Philly diner, except with wheels, no tables and no waitresses named Flo. So actually it's nothing like a diner except for the belly-filling hoagies stuffed with thinly sliced steak and cheese sauce.
Your course of action: follow them on
Twitter
. Find them at one of the food truck meetups across town (like Tuesday night's BTTR), pray that the rain holds out and then get your hands on one of
11 meaty options—from The Klassic (made with rib eye and provolone) and the ChoGo Ssamwich (made with Korean marinated rib eye and havarti cheese) to the Hot Stomach (marinated spicy pork belly, mozzarella cheese and spring onion).
No one likes a soggy sandwich.