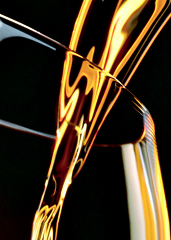 Oh, hi.
Excuse us for a second, but we'd like to briefly commandeer your Tuesday afternoon for a special announcement:
You're about to get medieval on your own ass.
Because soon enough, your carte blanche access to one of the world's oldest and most storied boozes will be granted by way of
Monks Meadery
, Georgia's first and only mead brewers—now preparing to unleash their first 300 kegs into the goblet of your choosing.
This is the point where you start questioning whether or not you're actually supposed to know what this medieval hooch is. And it's okay if you don't, because somehow the ancient-adult-beverage-made-entirely-of-fermented-honey market has yet to capture the spotlight in our fair city.
That said, a few simple tags may help here: aphrodisiac. Viking warriors. Queen Elizabeth. Orgies (hey, it's history). Battles. Makes absinthe look (and feel) like water. Athens... Georgia.
Regarding that last one, that happens to be where a couple of guys, Martin and Justin, decided to turn years of mead-centric home brewing and recipe tinkering (think lightly carbonated, crisp...) into the real thing. For now, they brew out of Terrapin HQ, so you should go check that out. Take a tour and whatnot.
But you should also keep an eye on
their Twitter feed
to see when and where they plan on releasing those 300 kegs.
And maybe a kraken or two.