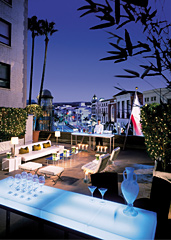 You don't look down on tourists.
Really. You almost never do.
But when a striking new rooftop hideaway offers you the chance to literally peer down over the throngs of Rodeo Drive with some rum in your hand, well, then you'll look down on tourists.
Welcome to
The Terrace at the Beverly Wilshire
, a swanky alfresco lounge setting up camp over Rodeo every Thursday evening starting this week.
Here to provide a stage for your next seven Thursday happy hours—be they with producers, dates or dates with producers—this is an intimate, off-the-radar kind of place. (In Beverly Hills, you can't call it a pop-up. The term's too... un-luxurious.)
The plan: cut out from work a little early, head to the Beverly Wilshire hotel, take the elevator to the second floor and follow the faint scent of rum out to a quiet terrace dotted with white couches and, more importantly, bartenders.
Start with a round of
Cubans
(there's rum, champagne and mint) while you're taking in the views of tourists looking for Eddie Murphy and Julia Roberts below. But once you're getting closer to sealing whatever type of deal you're sealing, settle into one of those couches to ride out the sunset with some vodka-spiked sangria or
Chino Latinos
—there's tequila and some lime salt foam.
Wouldn't be happy hour without lime salt foam.
Note:
<a target="_blank" href="http://theblvdrestaurant.com/events">The Terrace at the Beverly Wilshire</a>, open Thursdays, August 11 to September 22, 5-9pm, 310-385-3901