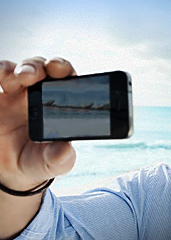 Let's talk about your digital photos.
They're amazing, by the way. And we're not just saying that. Really nice use of the Hefe filter.
But it's a shame. Because there they are, floating in the digital ether.
They deserve better. They deserve a home. They deserve... a book.
Introducing
Blurb Instagram Books
, an almost-instantaneous way to transform your Instagram canon into printed form, available online now.
It's an old-school approach to your old-school pictures. You're no doubt familiar with Instagram, the iPhone photo-sharing app with crazy filter options—the one that lets you give your photos a retro, contrast-laden effect. If not, well, now's your chance to channel your inner Bruce Weber.
Creating the tome is simple. Grant the app access to your Instagram account. Then Blurb will load your photos, automatically formatting the pages for you. After that, you're free to go straight to checkout, or you could linger in the edit mode and curate your masterwork.
Our suggestion: separate your books according to topic. Meaning: a Sports Illustrated–style Swimsuit Issue chronicling your encounters with the bikini models in the wild. Another crustacean-oriented book filled with shots of various seafood dishes you've consumed. And, of course, an American Apparel-esque spread of ingenues in various modes of hipster dress.
Save room for the leotard section.