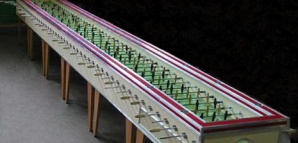 With the Euro Cup in full swing, your mind may be turning to thoughts of soccer or—if you want to play without worrying about real estate—thoughts of foosball. And you've always been one for thinking big.

Feast your eyes on the XXL Foosball Table, 24 feet of pole-pushing, handle-spinning satisfaction shipped fresh from Europe, just in time for your Euro 2008 finale bash.

The table comes from the Dutch firm Airworks, better known for their line of enormous inflatable objects. Say the word, and they'll put together a table just for you, packed up and ready to be shipped over. And it'll be one of a kind, at least until the next foosball aficionado steps up…

Of course, it's not quite the game you remember from the basement rec room. This version boasts ­­­­182 men on the field and 23 handles on each side, so you'll be entertaining a full soccer team on your roof deck, thoroughly testing the reflexes of your closest dozen friends, with a fully stocked grill and ice chest to keep things going past the first half. As for the gameplay, expect fewer shots on goal, a little more field position and a lot less scoring.

As for getting past the defense, your best strategy is probably to break out that vodka.