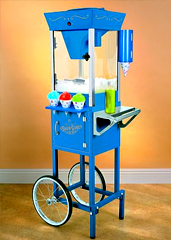 Your pool parties have earned you a bit of a reputation.
In fact, we're pretty sure the only thing stopping you from building a mermaid farm in the deep end is the fact that mermaids aren't real.
But while we're on the subject of legendary attention to poolside detail, allow us to step in with a suggestion for the cocktails part of that equation.
Serve them from a giant snow cone machine.
Behold the
Old-Fashioned Snow Cone Cart
, a perfectly innocent (albeit gigantic) snow cone machine that you're about to turn into the best outdoor bar ever, available now.
Yes, at the end of the day, this is a very large, very retro snow cone machine—about five feet tall. Turns ice cubes into perfectly shaved, fluffy snow. That kind of thing. But seeing as how your Snoopy Sno Cone Machine days are well in the past... we trust that you know what to do here.
So somewhere between Neil Diamond's second set and round one of chicken-fight-apalooza, you'll wheel this thing poolside and stock the built-in ledge with your finest bottles of, let's say, rum, tequila and bourbon. Throw in a little flavored syrup for variety (or not) and what happens from there is pretty much up to you.
And the boozy snow cone gods.