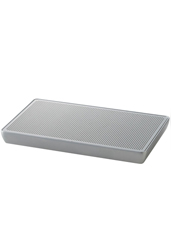 Today, a brief history of portable music:


Circa 8000 BC:
Cavemen begin dragging other more musical cavemen around with them to grunt harmoniously.
1877:
Thomas Edison invents the phonograph, which is slightly more mobile than having a singer come to your house.
1982:
Somewhere in New York City, an anonymous man hoists a newly invented "boom-box" on his shoulder while strolling through a park.
2001:
The iPod. You may remember it.
Which brings us to...
today:
you're introduced to
Card Speaker
, a pint-sized speaker you can slip inside your pocket, available now.
So allow us to set the scene. You're on the beach, organizing an impromptu volleyball tournament. (As one does.) You bust out this thing—at two inches by three inches, roughly the size of a business card—and plug it into your MP3 player/laptop/jack-equipped gramophone. Cue up your "Sandy Sports Megamix" and suddenly you're showing off your killer spike to the soaring strains of "Danger Zone."
The battery may not survive your entire double-elimination, round-robin-style tournament. But you can plug it into the nearest USB port for a recharge anytime.
We suppose you could also use it at the office.