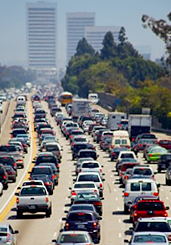 So, Armageddon didn't happen a few weeks ago.
But stay vigilant—Car-mageddon is now upon us.
Yes, the 405 is just days away from the long-dreaded three-day closure that will plunge our vast city into a nightmare of gridlock and heartache.
But if you play this right, you can turn it into a three-day happy hour.
Assuming, that is, you've done your research on the website called
Car-mageddon
, a thorough resource for surviving LA's imminent traffic travesty, online now.
Initially, you thought this all sounded like some apocalyptic Michael Bay movie... but it's worse. And it's very real. Consider this website your salvation. Just click on the neighborhood you'll be stuck in—for these purposes, LA is broken into Westside, Northside, Mid-City and Eastside.
What you'll find: a lengthy list of proprietors banding together to bring you food, shelter and the occasional all-night happy hour (Zengo) or a round of $3
Gridlock
shots (South), all in whatever neighborhood you'll be holing up in. Because honestly... you're not getting in your car, and you're not leaving your hood.
The list of participants is still growing, so keep checking back as the end draws nearer—or
follow the site on Twitter
for continuing updates on happenings on both sides of the 405.
Because we'll only get through this with cocktails and Twitter.