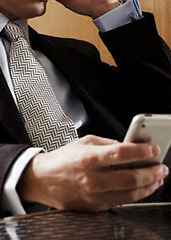 Hang on—one thing before you go. It's important.
We know your invites are out. Your meat's marinating for the grill. Near the DJ booth/fireworks stand, your flag-emblazoned Speedo awaits its moment to shine.
But if things get out of hand this holiday weekend, you need to know that incriminating photos aren't going to end up getting emailed around the office, posted all over Facebook and/or leaked to Perez Hilton. (Or Paris Hilton.)
In other words, you'll need
ObscuraCam
, a new Android app that will blur out all faces on your digital photos to help keep your wild nights away from the Internet's prying eyes, available now.
So say your party gets wild (as it will). A bunch of Hollywood types show up, and before you know it, you're sneaking away to give a
Transformers
stunner some... acting lessons. You take a few photos. And you want to share them with a friend, but you also want to protect yourself from future forwarding.
That's when you'll deploy this app. It uses facial recognition to easily blur out your face (or hers), and you can pixelate as needed with the push of a button, or hide a face behind Groucho Marx–style glasses. So in case the photos fall into the wrong hands, you've taken all the necessary precautions.
Okay. Now back to your marinating.