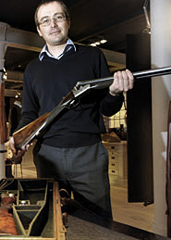 If you want to know about Tom Selleck's gun habits (and we know you do), you go to one guy: Tom Selleck. Second choice: his gun guy. So we sat down with
Anthony Alborough-Tregear
(nickname: Trigger), bespoke gunsmith at Westley Richards & Co. in the UK, to discuss big game, big guns and bigger mustaches. Happy Fourth of July.
UD: How long have you personally been making rifles?
Trigger: About 16 years.
UD: And we've got to ask about the name—how long have you had it?
Trigger: [
laughing
] I've had that for as long as I can remember. No one forgets it.
UD: Ha. So Tom Selleck has obviously spoken very highly of you guys. When you're building a gun for a guy like that, with a big mustache, do you have to take that into account?
Trigger: [
laughs
] No, not at all. He's actually just a really nice guy.
UD: Any other particularly memorable clients?
Trigger: Historically, we've built rifles for clients like Hemingway—one that he owned recently sold for about $400,000.
UD: Nice
.
Trigger: So that was one of our rifles from many years ago—[it] was actually built for someone else and happened to end up in Hemingway's hands.
UD: What's the strangest request you've ever received?
Trigger: Oh, a lot of what we do is out of the ordinary. We did a rifle quite a few years ago that was all carved with gorillas. But to me that's not strange, just a theme, really. A gun is very often now a piece of art. It's like a blank canvas.
UD: And what do you need before you start painting that canvas?
Trigger:
Patience. It basically takes two years to build a rifle. Waiting time from start to finish for a standard rifle is 24 months and if you go with something ornately engraved, it could take three to four years.
UD: Wow. So do you ever go hunting with clients?
Trigger
:
Occasionally. It just depends on the actual client—some are very private when big game hunting is concerned.
UD: Who would be your dream client?
Trigger: The funny thing is that the best clients are the ones who are very easy with an order.
UD: So you're not going for huge celebrities then?
Trigger: No, definitely not. [
laughs
] Previously, but not here, I've been involved with Eric Clapton—he is actually a really nice guy. He and the guys from Pink Floyd and so on, they are actually shooting men over here.
UD: Let's talk about your own shooting habits—what's your go-to firearm of choice?
Trigger: Mine would be a double rifle, definitely.
UD: What are your favorite places to shoot
?
Trigger: Botswana, Tanzania. I prefer big countries which are more open—Zambia, Mozambique, really fantastic places still very untouched.
UD: So what's the best shot you've ever made?
Trigger: That's not really the sort of thing you would normally discuss—no offense, but that's probably a very American thing. But I mean I've made all sorts of shots, in bird shoots and big game hunting, there's probably quite a few to be honest.
UD: But a gentleman never tells
.
Trigger: Yeah exactly, right—not that I'd say I'm a gentleman... [laughs]