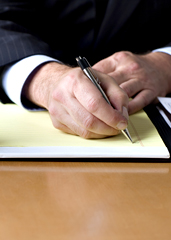 When deployed correctly, the written word can be a beautiful thing.
Assuming, of course, you actually have the time for correct deployment.
And since that may or may not be the case...
Allow us to suggest a hired gun to compose handwritten letters for you.
Say hello to
Classic Thanks
—a new website that deploys a crack team of penmen to convert your hastily typed sentiments into actual handwritten letters, available now.
Yes, you're about to hire someone to handwrite letters for you. And stamp them. And mail them.
But we get it. Despite your best intentions, you don't always have time to properly thank Aunt Gretel for that delicious batch of ladyfingers she just ground-shipped from Lithonia. Or perhaps you've found occasion to properly beguile that slinky English professor from the Scholarship Gala by way of your dazzling prose.
Suffice it to say, an email simply will not do.
So you'll go to this site and select your stationery type, preferred handwriting style (modern or traditional) and even whether you'd like them to use a felt-tip or ballpoint pen. And from there, all that's left to do is type your message and let the magic happen.
Magic, now semi-shady.