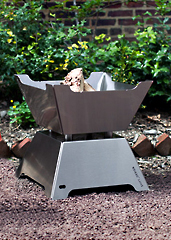 What a spring.
Boat shows. Crawfish boils. AVP beach volleyball parties. All in your backyard (we're still amazed you imported that sand from Antigua).
And with the door to summer now wide open, it's time to step up your backyard game a notch.
We're thinking a fire-fridge hybrid as well.
Presenting the
Fire and Ice Pit
, a revolutionary piece of backyard BBQ gadgetry that's both a fire pit and an ice chest, available now.
Think of this as the solution to your fireless parties thus far, considering you gave up the fire pit option in lieu of a rooftop pool when signing the lease on your condo (it was still the right choice).
Its main draw: it can be set down in any urban environment to bring all the splendor of a fully functioning fire pit. Plus, it sits only 20 inches off the ground (known as the ideal s'more-toasting height).
And should you bring this little beauty to your beach house where there's already a fire pit the size of an Olympic swimming pool set up, just flip it over. Now you have a durable ice chest that can hold up to a case of beer, with a bottle opener built right in.
In other words, this is great for the office, too.